Back to Articles index
A perfect partner: An interview with Ecstatic Peace's Andrew Kesin
Interview by Moshe Levy for saucerlike.com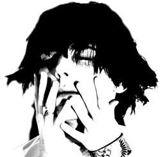 Many Sonic Youth fans still don't know, but Andrew Kesin is one of a few people who have a major influence on their sonic pleasures and collections. Well who is Andrew Kesin? After gradating from Rutgers University with degrees in Political Science and English, Kesin, a New Jersey native, moved to Boston and played in Bob Evans from 1989-95. After releasing a bunch of indie stuff the Bob Evans band signed on as part of a label deal with Electra/Eastwest- headed at the time by (now Universal exec vice president) Sylvia Rhone. The band was dropped along with TAD and about 35 other bands in what was known as "The bloodbath of '95". In 1998, Kesin started working with Thurston and Kim. While starting his own design firm VISIBL producing web and video projects, Kesin got more and more involved in various Sonic Projects including the production of two films "Daytrip Maryanne" and "Small Steps conversations with Pauline Oliveros" and doing some work for the www.sonicyouth.com and www.smellslikerecords.com websites. Those successful collaboration led to a business partnership between Andrew Kesin and Northampton neighbor Thurston Moore now, running together the Ecstatic Peace label.

Q: Do you think you have the best job in the world? How did you find it?

A: Thurston started the label in 1981 and has built up a catalog of over a hundred releases since that time. I started working with him in '98 on a film project and then became involved in the label, the website etc as a result of some long conversations on long drives. We formalized our partnership last year before we did the deal with Universal. I'm not sure anyone in the music business would say they have the "best job in the world" but I am lucky to have a real passion for what I do.

Q: Are you running all the business side of the label?

A: My responsibilities at EP are to essentially run the label on a day to day basis. I handle most of what you would consider "the business" dealings - but I talk to Thurston all the time about a variety of things. I also work directly with bands, managers, lawyers, foreign distributors, and the folks at Universal to do whatever needs to get done and help us make good decisions on signings, distribution, marketing, etc. Right now, we're in an extremely formative stage of our development - setting precedents every day - so communication is important. Driving between our offices in Western Mass and New York gives us time to hash shit out and working in collaboration with Thurston has been incredibly easy and great. I also do a lot of the graphic design for the label - website, posters, stickers, identity, and some CD layout. Thurston also loves to do that stuff- he laid out most of the catalog releases on the label and does the ads in wire, signal to noise, arthur, etc. We both feel strongly connected to a visual articulation of what we're trying to do and it's been cool to evolve the label's identity a bit.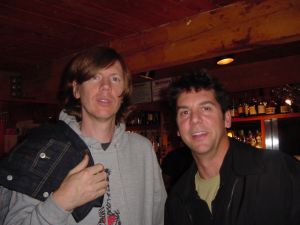 Q: What kind of a boss is Thurston? Does he make his employees prepare coffee for him?

A: Thurston is my 50/50 partner, not my boss. As business partners go, he's fantastic to work with.

Q: Does your work in Ecstatic Peace allow you enough time to work on your own projects?

A: um... no. On top of the more than full time hours that I put in with the label, I also maintain a design partnership that does design, web, video, etc for clients. My own projects have needed to take a back seat to all of that but I jam in as much as I can at night.

Q: How is your documentary, "Her Noise", coming along?

A: That evolved into a few different projects: Daytrip Maryanne, Small Steps, and the upcoming piece on the Magik Markers.

Q: Are you going to release Daytrip Maryanne and Small Steps on DVD?

A: We do have plans to release Small Steps as a DVD in conjunction with a CD of a live performance by Pauline. No plans to release Daytrip Maryanne though.

Q: Any other personal projects you are currently involved in?

A: I think we're going to do a book of my photos, more web and video stuff than I can even list, poetry, etc.

Q: Can you give us any info about the forthcoming solo album from Thurston? When do you except it to be released?

A: We're hoping to have something ready for fall 07 but there is no pressure on him or us. Thurston is in the writing stage now and I think he has a good portion of it written. There is a live track from him on our latest zine compilation(sweet release #3) that may show up in this batch of songs.

Q: Can you give us any info about the forthcoming solo album from Lee? When do you except it to be released? Is it collaboration with WWVV?

A: Lee has a bunch of projects going so we haven't gotten specific about the project other than that we all agree that we want to do a record. Lee is producing the forthcoming James Jackson Toth (aka Wooden Wand) record but it is a completely different project.

Q: Can you tell us a little more about you're your upcoming CDR series?

A: These are going to be a live series- The first one is a Magik Markers set at Tonic, the second is Wolf Eyes with most of Sonic Youth.

Q: What can you tell us about the Magic Markers/Ranaldo session? Are there any other sonic recordings on that series?

A: There is a plan to have Lee make a studio record with the Markers. We have a ton of different live stuff to choose from including plenty of sonic related stuff but we're taking this one step at a time…

Q: Are we going to witness College Girls Gone Wild on CD?

A: Not sure. Might be a good candidate for the LIVE CDR series but there is no specific plan afoot.

Q: Two years ago Don Flaming wrote that the Wylde Ratttz album might be released on Ecstatic Peace. Any news on that?

A: No real news. Like Don said, it might happen but there is a fair amount to unravel there…

Q: There are two Bark Haze releases coming soon on Important Records. Are these the same recordings you planned to release on your label?

A: I believe there is one release composed of two sessions but I could be wrong there. We did plan to do something when Important stepped in and asked Andrew MacGregor/Gown. I think having someone else do that first record is a good thing but I would hope to release some form of Bark Haze at some point.

Q: You were part of the crew who filmed the Sonic Youth gig at CBGB's. Do you know if this footage is going to be used for a documentary?

A: I have no idea. That's a question for Braden King at Truckstop media. Chris, myself and a few others just shot it and gave Braden the tape. It's his project.

Q: Ecstatic ATPeace!!! Is that true? Are there any details available? Can it top Thurston's Nightmare before Christmas?

A: Yeah, there has been talk of this ATPeace thing but I'm not even sure what it means. Thurston and Barry did an amazing job with this past ATP so I could only hope that the next one would be as good and well received. So I don't have any real info for you there other than that I think Thurston/Ecstatic Peace will probably do another ATP with Barry at some point.

Q: Now that Sonic Youth may not re-sign to Universal, would it endanger your deal with Universal?

A: The two things are not related.

Q: When I look on the EP website and zines I see that you post allot of info and links about your local geographical community. How does it merge with your desire to appeal to wider markets (national and international)?

A: I feel like the ecstatic peace community is international. And it's true that I do focus on the local scene to some extent but I also am not afraid to post info/reports etc from Brussels, London, or wherever. There are pockets of our community all over the world and it's fun to treat them all as if they're right around the corner. It's also been great to meet a lot of those people like say, Tyfus in Antwerp, and realize that he might as well live right around the corner.

Q: The Ecstatic Peace discography has a few Thurston related titles that have been out of print for a long time or that have never been released. Do you have any plans for these titles?

A: No current plans to re release out of print stuff. We're too busy with new stuff. Gotta move forward!

Q: So, are you going to introduce new bands in 2007?

We have lots of new stuff actually:

Pagoda: Michael Pitt's turbo rock vehicle, forceful melodies, strong guitar sounds, great rock. Full Length release with a US release date of 2/23.
James Jackson Toth: aka Wooden Wand, James will prove to be one of the best songwriters of this decade. more on this soon...
Vinyl coming in the next 2 months:

LAMBSBREAD – Stereo Mars LP (Ecstatic Peace E#105c) 500 copies. 2006
The stunningly stoned Lambsbread have succeeded, in relatively short time, to be the most mesmerizing wastoid action/improv trio of the new century. Direct from the nethervoid of Ohio these blasting concept dub-zone visionaries (Zac Davis and Kathy O'Dell – guitars, Shane Mackenzie – drums) have toured relentlessly across the USA with likeminded conspirators Magik Markers, Graveyards and Leslie Keffer and dropped jaws with a dripping smokeout at the 2006 ATP/Nightmare Before Christmas. Herewith is their debut 12" wax recorded and mixed one lost day in their notorious basement in full audio-reefer fidelity.

THE NEW BLOCKADERS w/ JIM O'ROURKE + THURSTON MOORE – LP (Ecstatic Peace E#85b) 500 copies. 2006
Originally released as a limited CD by Hospital Productions in 2005. This is the equally limited LP version with variant artwork. TNB is arguably the most notorious and interesting proponent of ground zero UK noise/industrial history. A mysterious and oddly evocative practitioner of abstract noise purpose TNB has released some of the most consistently challenging recordings of the genre. What we have here is O'Rourke on one side and Moore on the other taking TNB "music" and collaborating with it in distinctly different ways: O'Rourke utilizing the free-life percussion power of Chris Corsano and Moore employing the spirit-index of shortwave.

X.0.4 – Cataracts LP (Ecstatic Peace E#105d) 500 copies 2006
Debut vinyl release by the Western Massachusetts drone/scrape trio of Bill Nace, John Truscinski and Jake Meginsky. These guys have developed into one of the most soul-glowing sound/improv units out there today. And we mean out there – sparkling shards of guitar/amp/file machinations dance and intercede with rolling thundercloud dreamdrum dramatics. Nace you know from his killer duo throwdowns with Chris Corsano as Vampire Belt as well as the more recent weirdness with Dylan Nyoukis and Karen Lollypop as Ceylon Mange and in duo with Thurston Moore as Northampton Wools. Truscinski and Meginsky are the fine gentleman who've recorded as Slaughterhouse Percussion, Meginsky a student of, and fellow professor with Milford Graves at Bennington College.

LITTLE CLAW – 7" (Ecstatic Peace E#104b) 200 copies 2006
2 unreleased songs from this amazing Michigan group who had an LP in the '06 on Ypsilanti Records which ruled hard: "Like a stun-doughnut set to explode in your mouth, …this Michigan trio is a primitive cave-full of no-noise-raunch that rocks with about forty ties more thuggishness than anything else in the neighborhood. Upful!" – Byron Coley, Bull Tongue (Arthur Magazine)
and much more...

www.ecstaticpeace.com