Click here
for news archive.
LEE ART ACTIVITY
January 26, 2009
Lee and Leah Singer have a sound and image installation called 'ILOVEYOUIHATEYOU' at the Kunsthall in Stockholm, Sweden, with additional works by Nancy Holt and Robert Smithson, Gordon Matta-Clark, Terry Fox from Feb 7-May 24. An opening event will take place Feb 7.
Lee and Leah also have an installation called 'We'll Know Where When We Get There' at CNEAI in Paris. This one is an installation of prints and visual works, with an additional section curated by L+L including works by Jonas Mekas, Tacita Dean,Merce Cunningham, Maison Martin Margiela, Kim Gordon, Brigitte Fontaine
and others. February 8 - May 3, 2009.
Lee also has artwork in the traveling group exhibition Bad Moon Rising 3, which will be at the
Boots Contemporary Art Space in St. Louis, Missouri Jan 16- Feb 28
2009. The exhibition aims to expose some of the dark sides of the world's self-proclaimed greatest nation: the United States of America.
Scope the info.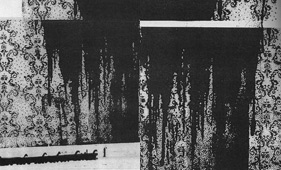 Sonic Youth
, initially comprising of guitarist / vocalists
Thurston Moore
and
Lee Ranaldo
, guitarist / bassist / vocalist
Kim Gordon
and drummer Richard Edson, were formed in New York City in 1981. A product of the No-Wave music scene of the late 1970s, the group had their roots in abrasive, experimental music, with Moore and Ranaldo having previously worked with the experimental composer Glenn Branca. The band were joined in 1985 by drummer
Steve Shelley
, and have now recorded 14 albums together, as well as many side and solo projects. Their work has been consistently challenging and innovative, and they are widely regarded as one of the most intriguing and influential bands of their time.



The requested URL was rejected. If you think this is an error, please contact the webmaster.

Your support ID is: 4184029299573730772



Fan sites